Environmental information paper for children "Ecochil"

This media aims to contribute to the promotion of ecology awareness in schools and at homes as well as nurturing children to act on global environmental issues.
Emphasizing on the necessity of starting environmental education from a young age, teachers hand out this media to elementary student in about 760 schools in Tokyo, 200 in Sapporo City, 860 schools in 178 municipalities every month. (Tokyo edition 325,000 copies, Sapporo edition 100,000 copies, Hokkaido edition 150,000 copies)
To keep the media interesting, all editions are full color with illustrations and ruby used for Kanji. Contents are designed for easy understanding and there are even crosswords and comic strips.
Children's environmental events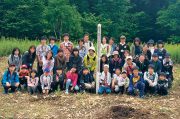 By reading Ecochil, environmental awareness has increased in many children having them voluntarily participating in environmental events.
Almost every month an environmental education bus tour event is hosted, that deepens the understanding of environmental issues while enjoying the experience.
Children's sports support information paper "Spochil"

Media aiming to contribute to the promotion of sports culture for the next generation and the promotion of sports at school and at home.
Spochil is issued every even month. The Ecochil Sapporo Edition will be included and delivered to schools.
Children's career education information paper "Carichil"

This is a medium that aims to promote career education with the government, schools, corporations, and households under the theme of "the power to live in society".
Carichil issue every odd month. The Ecochil Sapporo Edition will be included and delivered to schools.